Atlanta Continues to Embrace E-Commerce
Phase one of CT Realty's Palmetto Logistics Park leases up to make way for 3.5 million square feet completion
ATLANTA—CT Realty's announcement of the phase one leasing of more than one million in a larger park set for 3.5 million square feet is a reminder of the continuing demand in the area's biggest job growth.
That's not high-tech, though it's often viewed as the darling of growth. Instead, it's the more mundane transportation and warehousing industry, which is actually Atlanta's largest employer with 250,000 jobs and a 25% growth rate since 2012.
Global medical device manufacturer Drive DeVilbiss leased the first phase of CT's Palmetto Logistics Park, as recently announced.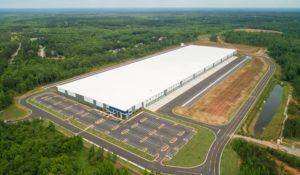 CT's future plans back up what is sees a continuing robust demand for e-commerce. The U.S. Commerce Department said it grew nationally by 15.7% in the first half of last year, which CT says is "reshaping the distribution supply chain and continuing to lead to demand for bulk warehouse."
"Projects located near intermodal rail — as is Palmetto Logistics Park — meet a compelling requirement for distribution companies," a spokesman for CT Realty tells GlobeSt.com.
A second phase of the project is for a 1,041,600-square-foot distribution facility. It is set for completion late this year. The venture controls an additional 147 acres for two subsequent phases of development that will complete the 3.5-million-square-foot park.
Palmetto's location is across the highway from a CSX intermodal facility and proximity to I-85. The park is also located 12 miles from the Hartsfield Jackson Atlanta International Airport.
Company seeks to meet global demand
"Buildings that are strategically located near modern logistics infrastructure are integral to meeting the demands of today's most progressive logistics users, which is at the heart of our national strategy," said Rob Huthnance, CT's partner responsible for East Coast development and operations, including the activities of affiliate PLR.
The company says it is engaged in a strategic expansion to meet the significant global demand from e-commerce and logistics companies for large scale, Class A industrial buildings in nine Tier 1 U.S markets.
CT and affiliate Port Logistics Realty partnered with River Oaks Capital Partners in a joint venture with Prudential Global Investment Managers to acquire the initial 213-acre parcel for Palmetto Logistics Park in 2017.
Drive DeVilbiss Healthcare was represented by Jason Goldman and Bob Robers of Cushman & Wakefield, while the joint venture was represented by Ben Logue and Price Weaver of Colliers International.
Since its establishment in 1994, the Newport Beach, Calif.-based company has completed more than 300 transactions valued at more than $3 billion. CT is primarily focused on the investment of Class A industrial logistics developments throughout the U.S.
Media contact: