CT REALTY BREAKS GROUND AT NORCAL LOGISTICS CENTER
ACQUISITION AT NORCAL LOGISTICS CENTER REPRESENTS THE CALCULATED EXPANSION OF A NATIONWIDE LOGISTICS STRATEGY CT REALTY BEGAN AGGRESSIVELY IMPLEMENTING FIVE YEARS AGO
STOCKTON, CA— A project within the master-planned NorCal Logistics Center breaking ground this month includes an unprecedented amount of speculative construction. CT Realty recently acquired 345 acres of industrial land within the center, with plans to develop 4.4 million square feet of high-clearance distribution, e-commerce/logistics and advanced manufacturing buildings.
Valued at $135 million, the first phase of development includes approximately 1.7 million square feet in three buildings, including a 1.12 million-square-foot building that will be the single largest spec building developed in Northern California. Two additional buildings of 388,183 square feet and 186,944 square feet will complete phase one. Beyond the planned development, NorCal Logistics Center has sites available for build-to-suit developments ranging in size from 100,000 square feet to more than 1.9 million square feet.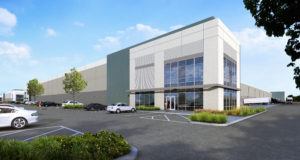 "We view this as a long-term development opportunity to assemble a world-class logistics campus in one of the strongest markets in America," said Carter Ewing, managing partner of CT Realty. "The dynamics of California's Central Valley region, with an industrial base of more than 185 million square feet, mirror the favorable activity we have encountered over the last three years in Southern California and other major distribution markets in Dallas, Atlanta and Chicago."
NorCal Logistics Center, which is already home to General Mills, Fresh & Easy and Fox Head, serves an extension of the global logistics supply chain infrastructure directly linked to West Coast ports in Oakland/Stockton, Los Angeles/Long Beach, Portland, OR, and Seattle/Tacoma. The project is proximate to key intermodal facilities operated by Burlington Northern Santa Fe and Union Pacific railroads, and is accessible to State Route 99, Interstate 5, Interstate 205 and Interstate 580, linking to all major Northern California markets and western US destinations.
"The project will appeal to users in the e-commerce supply chain, the strongest and fastest-growing demand driver for industrial space today. The interesting aspect of this is seen in the labor market, where e-commerce facilities drive employment at a factor of two to three times that of traditional warehouse and distribution users," Ewing tells GlobeSt.com. "The project will also attract traditional retailers and third-party logistics providers. General Mills, Fresh & Easy and Fox Head are already tenants via in an earlier phase of NorCal Logistics Center, and it is expected that similar-type companies will show interest in the project."
CT and related development partnerships are developing speculative and build-to-suit class-A logistics buildings for some of the largest industrial users in other parts of the country. The company has acquired or developed 7 million square feet of US industrial buildings during the last 36 months. CT Realty earned its reputation as a large scale class-A logistics property operator after signing the largest US industrial lease transaction in 2010, a single-building 1.4 million-square-foot lease with Hewlett Packard.
"The evolution of modern logistics infrastructure, including inland ports, sea ports and commercial rail systems, has changed the dynamics of how containerized cargo is distributed nationwide and throughout the world," added Ewing. "Investing in buildings that are strategically located near this infrastructure is integral to meeting the demands of today's most progressive logistics users, and this is at the heart of our national strategy. The locational attributes of NorCal Logistics Center give us confidence that this will become one of the premier master-planned logistics parks in the entire Northern California market."
CT acquired the NorCal Logistics Center parcel from Arch Road LP, a partnership controlled by Minnesota-based Founders Properties, and was represented in the transaction by Darla Longo, Barbara Emmons Perrier, Rebecca Perlmutter and Michael Kendall of CBRE National Partners. CT was represented by Cushman & Wakefield's Kevin Dal Porto, Blake Rasmussen, John McManus and Tyler Vallenari, who will provide ongoing leasing, sales and market support services.
"NorCal Logistics Center represents the calculated expansion of an industrial logistics strategy we began implementing aggressively across the country five years ago," said JC Watson, managing partner of CT.
The project is designed by Ware Malcomb, an architectural design firm with experience in logistics and distribution facilities. Construction financing is provided by Cal Bank & Trust and Fifth Third Bank.
Media contact: