Next Phase of Logistics Park Underway in Atlanta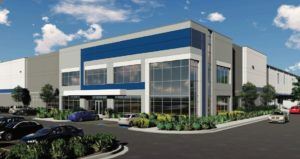 CT Realty and its affiliates launched development on two large-scale distribution buildings totaling 1,747,074 square feet at Palmetto Logistics Park, a 358-acre distribution facility in greater Atlanta. The development follows the completion of the first phase in late 2018, a more than one-million-square-foot building medical device manufacturer Drive DeVilbiss Healthcare claimed shortly after completion.
CT's Rob Huthnance says, "Buildings that are strategically located near modern logistics infrastructure and major population centers are integral to meeting the demands of today's logistics users."
The site is next to the CSX-Fairburn Intermodal Terminal, near I-85, as well Hartsfield-Jackson Atlanta International Airport. The location is also a half-day truck drive to three principal Southeast seaports in Savannah and Brunswick, GA, and Charleston, SC.
Vertical construction is underway on the project's second building, a 1,041,600-square-foot facility slated for completion Q1 2020. Preliminary site work has also started on building three, a 705,474-square-foot facility slated for delivery Q2 2020.
Media contact: