Planning for a Next-Generation Industrial Space Near Columbus, OH
A new kind of industrial and logistics property—a regional hub for e-commerce fulfillment—is rising in places like the Rickenbacker Industrial Park, outside Columbus, Ohio.
"First, developers built fulfillment centers around the largest population centers," says Craig S. Meyer, president of industrial brokerage for JLL, based in El Segundo, California. "Now they are building the second phase—regional fulfillment centers that will help e-commerce companies deliver to more of their customers in one to two days."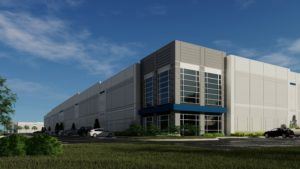 Construction is planned to begin this spring on several million square feet of new, high-ceilinged warehouse space next to a cargo airport, several Interstate highway arteries, and an intermodal railyard. The development is meant to become a regional hub for companies eager to deliver products bought over the internet more quickly to the homes of their customers.
"There are 150 million people in one day's drive," says Rob Huthnance, the CT Realty partner responsible for Midwest and East Coast development and operations.
5.7 Million Square Feet Planned for Rickenbacker
In January 2020, CT Realty announced the purchase of 382 acres (155 ha) near Columbus, Ohio. By spring of 2020, CT and its partners plan to start construction on its first two buildings at Rickenbacker, including a 742,000-square-foot (69,000 sq m) building and a 400,000-square-foot (37,000 sq m) building. Eventually, they plan to open eight buildings with a total of 5.7 million square feet (530,000 sq m) of warehouse and logistics space on the site. Each building will house a distribution center for a single, midsized company that will build out the space to suit its needs.
The site of the new development is within a one-day truck drive of one half of the U.S. population and one third of the population of Canada. With easy access to major highways including I-70, I-71, and I-270, the warehouse and logistical space should be very attractive to the kind of companies that CT and its equity partners Walton Street Capital hope to lure to the development.
The site is also next to a major intermodal railyard operated by Norfolk Southern Railway and Rickenbacker International Airport, which is the primary air cargo facility in the region. "It is the nation's largest all-industrial airport," says Huthnance.
Available land and willing local partners were the last pieces of the puzzle for the site. CT's development will receive a 15-year, 100 percent property tax abatement for the property. "We have had Columbus on our radar screen for several years," says Huthnance. "We've been working with this site for three years with sellers."
The developers are involved in a long list of new industrial development projects. In the fourth quarter of 2019 alone, CT completed 4 million square feet (371,600 sq m) of new logistics buildings in markets including projects in New Jersey, Indianapolis, and Fort Worth, Texas.
"Often, a million-square-foot [93,000 sq m] building doesn't exist in a market . . . so we are creating something new," says Huthnance.
These new warehouse spaces are very different than the warehouse spaces common just a decade or so ago. Before the dominance of e-commerce, a new warehouse might have a ceiling clearance height of just 24 feet (7.3 m) and less than 100,000 square feet (9,300 sq m) of space, in addition to having less space for parking trucks and containers and fewer parking spaces for workers. Truckloads of merchandise would arrive at these warehouses from factories and leave in trucks to go individual stores.
Instead, the logistics center in Columbus will receive truckloads of merchandise and repackage the goods into deliveries for individual customers that could be as small as a single copy of a bestselling paperback book. "To pick one book rather than a whole palette of books requires very sophisticated handling mechanisms," says Huthnance. "The material handling equipment has become larger . . . you have to have a more sophisticated and accurate forklift, picking systems, and software."
To make room for all that equipment, the buildings will have much higher ceilings, with as much as 40 feet (12 m) of clearance. The buildings will also have fewer columns inside and more space for parking trucks and containers outside. These new warehouses also have to accommodate all the workers needed to pack orders and put shipping labels on boxes without breaking merchandise.
"E-commerce distribution can be much more employee-intensive than traditional distribution," says James Breeze, senior director and global head of industrial and logistics research for CBRE, based in Phoenix, Arizona. These facilities also need more buildouts like break rooms designed for employee recruitment and retention in a very tight and competitive labor environment.
CT is negotiating with several midsized companies that might be moving in. "We would be happy sign a lease now—that would enable us to start our next phase," says Huthnance. "There are thousands of companies that need spaces like these."
"Demand for first-generation space is strong because more occupiers need modern amenities to service online consumers," says Breeze.
Industrial and logistics properties were 4.4 percent occupied at the end of 2019, according to CBRE. That is close to the lowest the vacancy rate has been in years, though it has twitched up 20 basis points since 2018.
"Vacancy rates are in a secular low in our asset class after declining for eight years," says JLL's Meyer.
The industrial and logistics spaces in many markets in the United States are arguably fully occupied. The amount of industrial space absorbed by tenants in 2019 fell by nearly a third (30.7 percent) to 183.3 million square feet (17 million sq m), largely due to tight conditions in several markets, according to CBRE.
"I don't see a major increase in the overall vacancy rate in the near or short term," says Breeze. "The new construction in the pipeline has seen strong activity, and will have a minimal effect on the overall vacancy rate, most likely similar to the increase in 2019."
Strong demand for industrial properties is attracting investors from around the world to buy and build warehouse and logistics properties.
"Newly constructed space will remain in demand, especially as e-commerce as a percent of retail sales continues to increase," says Breeze. "Only a major economic downturn that creates a significant decline in retail sales would create a large shift in the current supply demand dynamic."Currently, e-commerce retailers are focused on two types of distribution centers. One type is the regional hubs, typically big-box facilities, ranging from five years old to new construction. The second type is final-mile facilities, which have been a major demand driver for small distribution spaces, especially in heavily populated areas, says Breeze.
Investors have been quick to accept these new warehouse properties. Industrial properties sold in the United States in the fourth quarter of 2019 earned capitalization rates averaging 6.13 percent, according to CBRE. Investors accept even lower yields when buying warehouse and logistics properties in top markets. "Class A facilities in core markets like the Inland Empire are producing cap rates in the 4 percent range," says Breeze.
That is surprisingly close to the cap rates earned by Class A apartment properties in top markets, suggesting that investors now view buying a new, e-commerce warehouse property as nearly as safe an investment as buying a fully occupied apartment building.
"We are the darlings of the dance," says JLL's Meyer. "The amount of investment is increasing."
Media contact: