CT REALTY MAKES 95-ACRE LAND ACQUISITION FOR INDIANAPOLIS LOGISTICS DEVELOPMENT
Indianapolis and Newport Beach, Calif. – CT Realty has acquired a 95-acre parcel in greater Indianapolis for the development of a 1,016,244-square-foot industrial building. CT acquired the land from GDI Companies, master planner of the surrounding Crossroads Logistics Center where the project will be built. Development is underway on the building, which is valued at over $50 million.
Crossroads Logistics Center is located along the I-65 corridor and across the street from an Amazon distribution facility in the Northwest industrial submarket city of Whitestown, Indiana, an active industrial area spurred by pro-business tax incentives and good access to regional transportation. Downtown Indianapolis is minutes away, drivetime to Chicago is three hours and the project is a one-day drive to 57 percent of the U.S. population.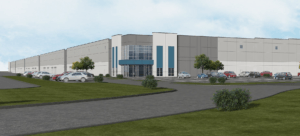 "This project fits squarely within our investment strategy to develop world class logistics centers proximate to transportation infrastructure and significant population centers," said CT's Rob Huthnance. "Development activity in the immediate submarket has been brisk in recent years, though there remains a void of larger industrial buildings. Were this building delivered today, it would be the only building over one million square feet in the market," added Huthnance.
The project is scheduled to be completed in late 2019. GDI Companies, who was represented in the sale transaction by Terry Busch of CBRE, will perform construction services through its subsidiary GDI Construction. Busch is also handling leasing for the building.
Crossroads Logistics Center marks CT's continued national expansion in the development of large-scale logistics facilities. Earlier this year CT began development in the greater Chicago area on the $125 million Interchange 55 Logistics Park, where CT will deliver its first two buildings totaling 1.3 million square feet in the next few months.
"CT remains committed to growing our presence in the Midwest and throughout select Tier 1 markets nationwide," added Huthnance. The company has significant logistics developments underway in Dallas/Ft. Worth, Atlanta, New Jersey, and Northern and Southern California, and will be announcing expansion plans in several new markets in the coming months.
Media contact: