CT REALTY SELLS NORTHERN CALIFORNIA LOGISTICS BUILDING FOR $105.3 MILLION
Sale of 1.1-million-square-foot building leased by Amazon completes CT's first phase at NorCal Logistics Center; phase two development underway
Newport Beach and Stockton, Calif. – CT Realty has sold a newly-built 1,122,341-square-foot industrial building to Bentall Kennedy (U.S.) Limited Partnership on behalf of its US Core Fund for $105.3 million, marking CT's completion of the first phase of development at the 342-acre NorCal Logistics Center in Stockton, Calif. The building, previously one of the largest spec industrial developments in Northern California, was 100 percent leased to Amazon at time of sale.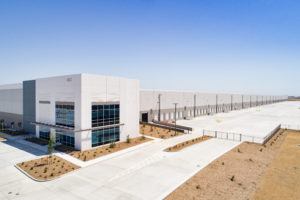 "NorCal Logistics Center was developed to meet the demands of today's most progressive logistics users, and no one embodies this better than Amazon," said Carter Ewing, managing partner at CT Realty. "It's only natural that a leading institutional investor such as Bentall Kennedy was attracted to the fundamental strengths of this state-of-the-art logistics building and its long-term value proposition."
Located at 4532 Newcastle Road, the building is within close proximity of two intermodal rail facilities and multiple interstate highways, serving all major Northern California markets and key Western U.S. destinations. The region is an extension of a global logistics supply chain infrastructure that links to West Coast ports in Oakland/Stockton, Los Angeles/Long Beach, Portland, Ore. and Seattle/Tacoma, Wash.
"The broad interest surrounding this sale reflects the increasingly high demand by tenants and investors for quality logistics facilities near heavily populated metropolitan areas," added Ewing. "Having begun NorCal Logistics Center entirely on a spec basis, CT has now leased or sold the first phase of the project at a pace that reinforces our belief in the region's demand drivers and reflects the high level of interest we are experiencing in our other projects nationwide."
The second phase of development at NorCal Logistics Center is underway and includes 2.7 million square feet in five buildings in a mix of spec and build-to-suit projects. CT is in construction on the first of these buildings, a 709,556-square-foot building planned for completion at the end of August 2019. "We continue to be impressed by the strength of the local labor market and the strong ongoing support from the excellent team at the City of Stockton," added Ewing.
CT is currently in construction on 5 million square feet of industrial space nationwide, including 1.3 million square feet of large-scale distribution buildings at Interchange 55 Logistics Park in the greater Chicago area, 800,000 square feet in the Dallas/Fort Worth area, 1 million square feet in Indianapolis, 1.8 million square feet in Atlanta, and nearly 100,000 square feet in New Jersey. The company's current land holdings support the development of an additional 15 million square feet of industrial buildings over the next five to seven years, and CT is actively seeking additional development opportunities in 2019 for future expansion.
Media contact: