$300 Million Distribution Center Planned in Westlake Industrial Park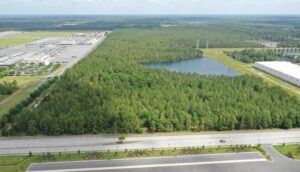 James C. "Watty" Watson, CEO of CT Realty, California, estimates more than $300 million will be invested in plans for a 251-acre distribution center in Westlake Industrial Park along Pritchard Road.
A partnership between CT Realty and Diamond Realty Investments LLC plans to develop 3.2 million square feet between eight buildings on property acquired on April 29th.
CT Realty said it would be Jacksonville's largest speculative industrial development.
Watson said on May 10 that the partnership will begin with an initial phase of more than 1.7 million square feet between three buildings due for completion for rental in the second quarter of 2022.
The three structures will be 1,010,350 square feet, 416,000 square feet, and 320,240 square feet.
Watson said Evans general contractor has started initial work on site. Vertical construction begins on or around August 1st.
"We love Jacksonville, we love the growth story, we love the infrastructure," said Watson.
He cited Interstates 10 and 95, the railways, and JaxPort as reasons for identifying Jacksonville as a distribution center.
"Our business is aimed at the largest tenants in the industry, especially the growth that is being driven by e-commerce," said Watson.
"We've been in the Jacksonville market for three to four years looking for a project that is the right size," he said.
The second phase will follow based on market demand. It will span nearly 1.5 million square feet among five buildings ranging from 250,000 to 425,000 square feet.
The project was not named, he said.
Watson said the first phase structures will be built at the same time. No tenants were signed.
"We are building these across the country and there are quite a few tenants out there," he said, looking for buildings of the planned size.
"They are usually the same size from market to market."
He said many of them are retailers focused on e-commerce, third party logistics companies and other users.
"We talk to big tenants around the country all the time," said Watson.
The Jacksonville market is competitive with industrial and sales projects as multiple developers continue to build speculative and bespoke projects.
"We see an opportunity," said Watson. "We believe that more space is needed now, that's why we build so aggressively. We believe the demand is there, so we're betting on Jacksonville. "
DRI / CTR JAX Phase I LLC purchased 251 acres in Westlake Industrial Park from Southeast Toyota Distributors LLC of Deerfield Beach for $ 19.5 million. The sale was recorded on May 10th.
Watson said the land is adjacent to the southeastern Toyota facility.
Watson said that Guy Preston, executive director of Colliers International, and Seda Preston, associate director, represented the buyer and seller.
CT Realty is based in Newport Beach, California. CTR Logistics JAX LLC is the manager of Florida LLC.
According to Watson, Diamond Realty Investments is the US investment subsidiary of Mitsubishi Corp.
Media contact: