Industrial Developer Turns More Dirt in Alliance
CT Realty is about to put up another industrial development in the bulging Alliance submarket.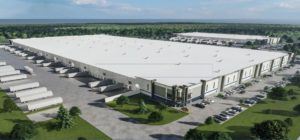 A joint venture between CT Realty and Mitsubishi's Diamond Realty Investments is building 882,565 square feet of industrial space in the Alliance submarket.
This is CT's fourth major industrial development in Dallas-Fort Worth and part of the California-based firm's expansion efforts across the nation.
CT's growth strategy is focused on the development, ownership and management of a portfolio of logistics projects in high demand, Tier 1 markets throughout the U.S.," said CT partner in charge of Midwest and East Coast business Rob Huthnance.
Like so many other developers clambering over one another for space in the booming submarket, CT chose Alliance for proximity to the Alliance Airport, the strength of tenants in the area, and proximity to the BNSF Intermodal.
The new project has been dubbed Westport Logistics Center and will be comprised of two buildings, one 677,249 square feet and the other 205,136 square feet. Their clear heights range from 32 feet to 36 feet. J. Scott Moore and Bob Scully of CBRE will take care of lease up for the facilities.
Other CT properties in the metro include 1460 Avenue S in Grand Prairie, Oakdale Distribution Center in Grand Prairie, and the Southport Logistics Park in Wilmer, which houses an Amazon distribution center and is also the product of a JV with Diamond Realty Investments.
Media contact: